Buy Blue's Clues, Season 5 - Microsoft Store
Download Blue's Clues games to your computer for later use, or play them directly on this page. The game links found below were all provided by www. . , Meet Polka Dots, Play Polka Dot's Bubble Puzzle Now! Steve and his brother Joe are really happy to see us because they have some big news to share: Steve. Celebrating the season in their own fun-filled ways, BLUE'S CLUES: BLUE'S FIRST HOLIDAY Contains four episodes with Steve: "Blue's School" " Something to do Blue" "Rhyme . We help out Shovel and Pail - first to measure their sand castles and see which is taller and then to even them up. Meet Polka Dots!. 5 · What Experiment Does Blue Want To Try? 02/09/ 6 · Blue's Senses! 03/ 30/ 7 · What Does Blue Want to Make out of Recycled Things? 05/15/
He has a magic ability that can fix it, but it's up to us to first find the things that are opposite so that we can tell him to fix them. Later, we skiddoo into a book where we help out two sisters that like opposite things to make their favorite places.
Tuesday, December 5th, Words This episode is all about words - even Blue's Clues are all words. Blue has a big bag of words from which we pull out such fun words as "wiggle" and "enormous. Salt and Pepper to prepare a sald for their friends Mr. Vinegar and Vinaigrette by using associations to figure out the meanings of new words.
Later, we skiddoo, oddly enough, into a blank piece of paper. We soon learn that by using the power of words, a blank piece of paper can become an imaginative and exciting journey down a road leading to an exciting party. Monday, February 12th, Blue's Collection Today, the characters are all showing off their collecitons. There are lots of different collections, from striped things to leaves.
We find that Periwinkle has lots of different collections. We also skiddoo into a beach to help Shovel, who collects seashells, but can't find any in the backyard. Monday, February 19th, Pepper as chefs and they can't wait to begin serving food. We help them out with this as they find that it isn't as easy they thought when they're missing some of the things they need for the meal.
By working together and using math, logic and observational skills, we help them to prepare meals for Shovel, Pail, Tickety and Periwinkle. Monday, February 26th, Shy Magenta's owner, Miranda, comes over to the Blue's Clues house to return a book that she borrowed from Steve. She also has a video of Magenta that she wants to watch together with Steve and Blue later.
Unfortunately, meeting new people can sometimes cause one to be shy. In this episode, we help some of our friends to feel less shy. We help Shovel to play with Pail's new friend, Sifter.
Later, in the Blue Skiddoo segment, we help some of Blue's classmates at her school with some things that they're shy about. Monday, March 12th, Environments Today, the characters are all learning about different environments. As always, one great way to learn is to skiddoo and so we skiddoo into a globe and meet up with Mother Nature and help her to come up with the lyrics to a song about the grasslands, the tropical rainforest and the arctic tundra.
Later, we learn about the favorite environments of some of the other characters and use our newfound knowledge to identify them. Monday, March 19th, Stormy Weather Steve and Blue are going on a nature walk, but before then, we try to figure out what the weather is going to be like.
We learn about the weater, as Steve pretends to be a weather reporter and observes conditions outside. A Blue Skidoo segment takes us face-to-face with a drop of water.
Coming Soon
From it, we learn all about the water cycle, from beginning to end and over again. Monday, March 26th, Magenta Gets Glasses Magenta has been trouble seeing lately and so she goes to the eye doctor to get glasses. Steve and Blue help her out and we get to see how an eye test works. Later, we help her pick out her glasses and also help out when she's a bit shy about wearing them in public. Imagine Nation In this episode, we use our imagination to see, feel and even taste things that we wouldn't be able to otherwise.
We tell a story with Blue, Tickety and Slippery Soap using pictures and our imaginations. Salt doesn't seem to understand the whole imagination thing and so he doesn't see what we're seeing.
Together with Steve, Periwinkle and Blue we come up with a special song to help Mr. Salt find his imagination. Monday, April 9th, 2: Adventure In this episode, we use our imaginations to go on a big adventure. We have to think creatively to overcome his magic obstacles. Then, finding our path blocked by a lock, we skidoo into a storybook and must solve a series of riddles to obtain a magic key.
Monday, April 16th, 3: The Anything Box When a mysterious box shows up in the backyard of the Blue's Clues house, Steve is disappointed to find that it's empty, but Blue shows him that by using imagination, the box can be anything one pretends it to be. We use this idea to have a lot of fun, pretending that the box is anything from a car to a rocketship.
Shovel and Pail manage to get three different uses out of it. We even use it to make it to the top of a high tower in the Blue Skidoo segment. Monday, April 23rd, 4: Steve and the Blue's Clues characters are all pretending to be superheroes. Together, we use our superpowers to solve a number of problems. We help Paprika find her missing Teddy Bear and help Mr. Salt at telling time.
In the Blue Skidoo segment, we help a friend named Frank to find out just what his superpower is and help out two other friends in the process. Monday, October 8th, 5: Blue and the Blue's Clues characters are trying out new things and so Blue and Steve decide to create "Blue's News" to document it. See Blue rollerskate, Pail try playing basketball, big news about Paprika, Mr. That's the news - now everyone knows. Monday, October 15th, 6: Blue's New Place 2 With Mr.
Peppers' new baby coming, changes have been happening in the Blue's Clues house and in this episode, Blue creates an entirely new place for herself, while Paprika moves into a big kid room. We learn about the special places of some of the various characters and what they like to do in them. We help Paprika to select big-kid things that let her do the things she enjoys.
As Pistas da Blue Theme (What Did Blue See?)
We also check out Blue's special place after receiving an invitation. Monday, October 22nd, 7: Pepper Day 3 With Mr. Peppers' new baby on the way, Blue and Steve have decided to create "Mr. Pepper Day" to honor them for all of the things they do to help everyone. Throughout the day, we try to help them out, from helping them to clean the kitchen to learning about their favorite things. They're also presented with a number of gifts carefully crafted to show them the things the characters appreciate about them.
All of this is a great help to them - not only to relax, but also to feel very appreciated for all their hard work.
Monday, October 29th, 8: Pepper is ready to have her new baby. While she's at the hospital and we wait for Mr. Salt's phone call, we do things like look at baby albums to pass the time.
Later, we visit the baby hospital with Blue, Steve and Paprika and meet the new baby. Finally, the baby comes home and we give it a special welcome home. Monday, November 5th, 9: Steve and Blue are going on a bug-watching expedition and we're invited to come along.
We help them to spot many neat bugs and once we've found them, we learn more about them and also theorize about why they do the things that they do. We also skidoo into a big bug book. There, we meet up with Antoinette, a worker ant on the first day at the job. Monday, November 12th, Making Changes 5 Now that Cinnamon has come to the Blue's Clues house, it's necessary to make some changes to keep him comfortable. That means that things such as loud games are out when Cinnamon is trying to sleep - but we learn that by just thinking a little, we can come up with changes that will let us still do the things that we want to do, but in a different way.
Sometimes the changes aren't easy at first, but they help others and aren't really that much of a problem. In the spirit of change in helping out, we also try to find ways to help Mr. Pepper take care of Cinnamon.
Monday, November 19th, Periwinkle missed his friend from the city, Plum, for a long time, but now he's finally come over to visit. Plum is a small purple bird who knows how to speak both Spanish and English.
Throughout the episode, we learn how to speak Spanish words and also help out our friends. We learn Spanish as we help Periwinkle and Plum to create a marioneta.
We also skiddoo into a puppet book, where we find Pedro, who needs our help in finding things to wear, so we use both Spanish and logic to figure out the right things that he needs. Monday, November 26th, The finding of a secret lost door gives us the opportunity to talk about things that are inside other things.
For example, we play the "Grocery Game" with Mr. This involves placing various food items on shelves baased on what's inside them. We also get to skidoo into a pull-tab book, where we find many interesting things inside the tabs. Monday, December 3rd, Blocks Blue's friend Green Puppy is over visiting with Blue at the Blue's Clues house and we're all having fun with blocks - Steve and Blue constructing towers with our help and Green Puppy knocking over towers of her own.
We learn about concepts such as balance, shapes and as we construct. A Blue Skidoo segment offers a look into architecture. We help an architect to select shapes to build various structures based on blueprints that he's created.
Monday, February 18th, It's a fun-filled event containing all sorts of different ballgames. We help out our friends with the games by acting as a coach and telling them how they can make the balls do the things they want. We also have fun with Steve's invisi-ball and later skidoo into a stadium where we assist Steve in making sense of an obstacle course filled with ball challenges. Monday, February 25th, Puppets Steve's brought out our old friend sock puppet and he encourages us to join in too by using our hand as a new puppet, "Handy.
We also help out Tickety Tock and Slippery, who have puppets of their own and want to tell a story, but aren't sure how to express emotions using their voices. Later, we skiddoo into a poster of a castle and become puppeteers to help out a character named Storybook. Monday, March 4th, Rhyme Time In this episode, we help the various characters to come up with words that rhyme with things they're saying.
Rhymes are words that have the same ending sound as another word, such as "say" and "hay" or "head" and "bed. Salt to create one to get Paprika and Cinnamon to sleep. We also skiddoo into a rhyming storybook.
There we help out several characters whose stories aren't quite right because one of the things in them doesn't rhyme with the other two things. We join Steve and Blue who are outside planting Nero, a new plant of theirs. In this episode, we learn all about plants, starting with some of the plants in the backyard of the Blue's Clues house. We help Periwinkle learn about plants and pretend to be plants ourselves.
Later, we skidoo into a plant book and learn about the very smart behaviors of some of Blue's favorite plants, such as the Venus Flytrap. Monday, April 8th, Blue's Book Nook Blue has her own book nook where she's organized her books into sections. We read some of the books and also help out some of the characters to find books that they need to help them out with things.
Later, we visit the library, where Marlee the librarian helps Steve to find a book about elephants.
Series overview
Nick Jr. favorites 6, Nickelodeon ; Nick Jr
iTunes is the world's easiest way to organize and add to your digital media collection.
We learn about reading, categories, classification, the alphabet and more. Monday, April 15th, Let's Boogie In this episode, we explore all sorts of dances. We learn that all sorts of movements can qualify as a dance. In the Blue Skidoo segment, we find out that a person who works to create dances is called a choreographer.
We help Steve and Blue to aid the choreographer in performing a new dance of his. Tuesday, April 16th, Blue is the teacher at her pretend school.
Blue's Clues - American TV Listings Guide
Monday, April 22nd, Something To Do, Blue Blue figures out something to do today. Monday, April 29th, Joe's First Day 1 At the top of the episode, Steve is playing show-and-tell. He's trying to figure out what he should show. He thinks maybe his stuffed toy, Horace the Anteater would be a good idea, or maybe his guitar.
He gets a phone call and it turns out that it's from his brother, Joe. He's going to be coming over and is going to play show-and-tell with everyone. Throughout the episode, Steve plays show-and-tell with the various characters. He also spends time working on a picture to show to Joe and asks for the audiences' help.
Finally, Steve has the viewers watch for Joe. He finally shows up and he and everyone else share their show-and-tell items together. Blue has something she wants to give to Joe, but first Steve and Blue have to find him.
Steve and Joe end up in a back and forth hide-and-seek game, with both of them looking for each other inside and outside, until finally they meet up outside. This episode is all about Joe playing his first game of Blue's Clues, in which he tries to find out what it is that Blue wants to give him.
He also gets to do his very first skidoo, into a picture of colored shapes, where, he Joe and Blue play another hide-and-seek game, but this time using distance comparisons to find the shape where someone is hiding. Steve Goes To College 3 Steve reveals to everyone in the house that he's going to be going to college and that Joe is going to stay and play with them while he's away. He skidoos to show everyone what college is like and meanwhile, Joe and the entire gang set up a surprise goodbye party for Steve.
Monday, May 20th, Today, Joe needs our help. That's not unusual, but it happens to be the particular theme for this episode. We help out Joe, Blue and the other characters in a number of ways. For example, we help Mr. Pepper to make some blueberry pancakes for Blue. We also help out some friends in Storybook Forest to prepare for a porridge party.
Monday, May 6th, 2: In this episode, Blue and her friends are creating a Portrait of Pals. It's going to contain pictures of lots of our Blue's Clues friends, but it seems that some of the colors we need are missing.
In this episode, we help out with mixing needing colors to help with the portrait. We also skidoo into a book of colors where we find some friends that are literally very colorful and help them to find their color friends - learning about special colors created by mixing in the process. Monday, May 13th, 3: The Snack Chart Blue has been growing and we help her and Joe use a chart to measure her.
This gives us an idea when Mr. Salt wants help with snack preparation. We can use a chart to list everyone's favorite snack. Throughout the episode, we record the favorite snacks of the characters on our handy chart with columns and rows. We help Shovel and Pail with their own chart of backyard birds and squirrels. We also skidoo into a farm, where we use another chart to feed a farmer's colorful pigs. Monday, May 20th, 4: We also help out some of the other characters to put neat things on their pages that show what they like.
Monday, June 10th, 5: It's hosted by Mr. Salt and there's a special guest too: Steve, all the way from college. In addition to some singing and finding out some of the favorite Blue's Clues moments from various real kids, we also take a look back at memorable moments from past episodes through a number of montages: Monday, June 17th, 6: Playing Store Today we play store with Joe, helping him to purchase things from shops set up by our various friends.
We use measurement and logic to help determine the right things to buy. Things purchased include a hat for Boris the duck and strawberries. A Blue Skidoo segment takes us into a furniture store, where we help characters to purchase new items of furniture to replace the old ones that they have outgrown. Monday, June 24th, 7: Patience Periwinkle and Blue have discovered an egg in a nest in the backyard, but it hasn't hatched.
They and Joe can't wait for it to hatch and the baby bird to come out, but it seems like it might take a while. It seems that we have to be patient and, until then, come up with some fun ways to pass the time.
So we help Joe, Periwinkle and Blue to think of things to do and help out when things don't go right.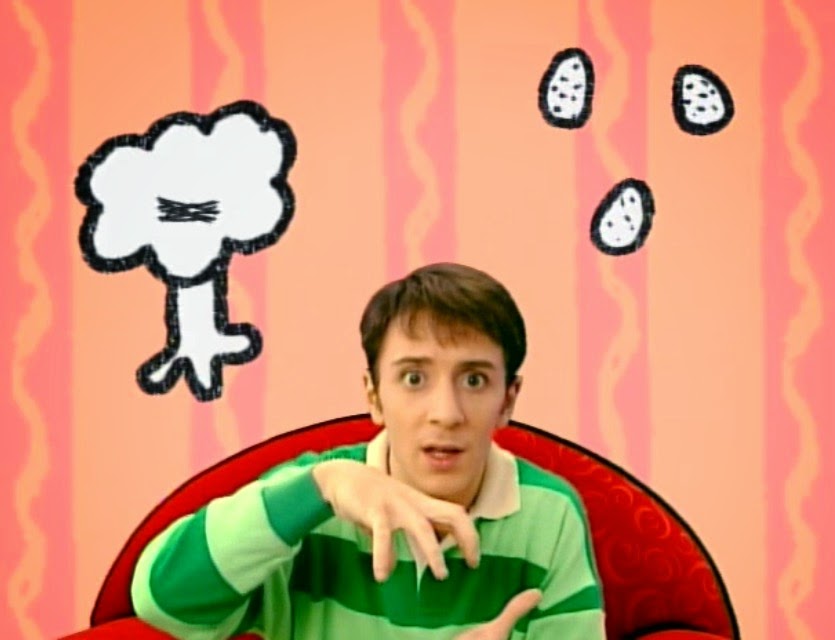 Monday, August 5th, 8: Joe's Surprise Party With Mailbox having distracted Joe to "help him" in the backyard, we learn that the Blue's Clues characters need our help in doing a surprise party for Joe. We help them out by keeping Joe distracted and assisting in the various preparations. We work hard, with Mr. Salt guiding us in getting things ready.
With everything in place, it's a party to remember. Monday, September 2nd, 9: In this episode, we talk about what makes us happy and also find out what makes some of the Blue's Clues characters happy.
Periwinkle likes magic, of course and Shovel has a favorite animal he likes to do impressions of. Joe's happy just to see us because we're so helpful. Unfortunately, sometimes we aren't always happy, as we find out in the Blue Skidoo segment. There, we find several characters that are having problems and help them to solve their problems so that they're happy again.
Monday, September 9th, The Boat Float In this episode, we have fun with the characters making boats and learning more about them. We learn how boats should be constructed and things that will cause them to sink or float.
We help all of the characters to make sure that their boats float. In a Blue Skidoo segment, we visit a beach filled with different types of boats. We help some of them to figure out why they're not moving, or going in circles. Then, we get to take an exciting ride on a speedboat. Monday, September 16th, Bedtime Business We've come to the Blue's Clues house at night and so we help Joe and Blue with their bedtime routine - their bedtime business!
We watch as Joe tucks in his duck Boris and then learn about important pre-sleepytime activities. The characters have small clothing crisis, but with our help in identifying clothing through features such as spots and stripes, the problem is solved. We also help out with washing up, reading a story and more. Monday, September 23rd, Shape Searchers Blue has created a fun game called Shape Searchers.
She pulls out a shape from a bag of hers and we try to find it. In this episode, we search for shapes in all sorts of places, pointing them out as we see them. We also have a Blue Skidoo segment filled with shapes. We meet some shapes and show them how they can combine with other shapes to make various things. Monday, September 30th, Blue Goes to The Doctor Blue is going to the doctor. She isn't sick, but she is getting a checkup and so we help her gather the things she needs to get ready, including a stuffed animal to hold on to in case she gets scared.
We play doctor and nurse with Shovel and Pail and later join Blue for her checkup. After her checkup, Blue has a special surprise for Joe. Monday, October 7th, Joe and Blue have been having some fun making neat contraptions. In this episode, we learn about devices such a pulleys and levers as we check out the contraptions the various characters have made. We use our prediction skills to try and figure out what the contraptions do.
We also skidoo into a computer contraption game where we help Gilda the builder to complete some unfinished contraptions. Monday, October 21st, In this episode, we have fun in taking part in new games, doing things like playing pretend and imitating behaviors.
A game of Periwinkle's provides an opportunity for memorization.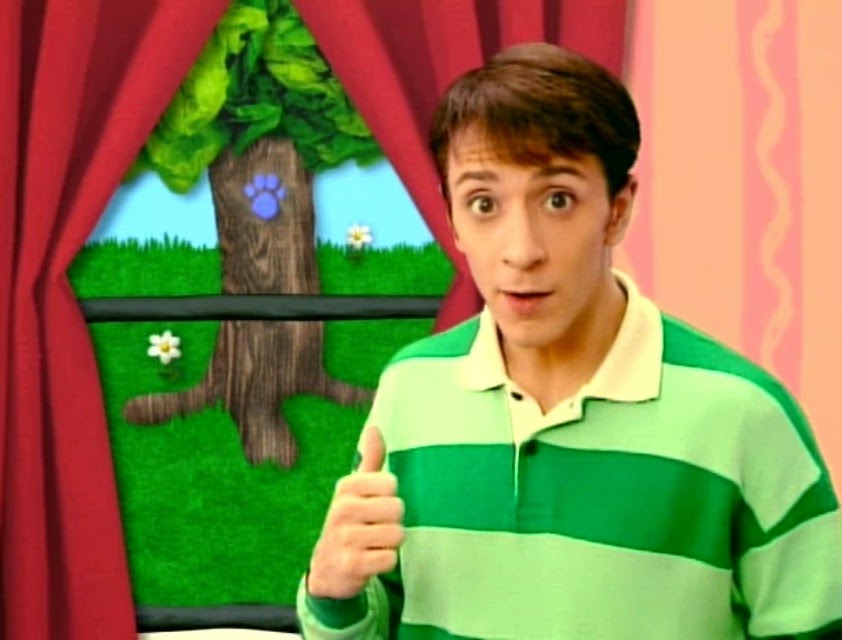 We also join in a game of Franny felt friend's in a Blue Skidoo segment and act out based on things that are lying around her room. Monday, January 6th, A Surprise Guest Joe and Blue are expecting a surprise guest, so to get ready she and Joe clean Blue's room, with our help in putting things away in the proper places.
We also help Blue put away her toys. Back at the Blue's Clues house, we set up an apple juice party for the guest. Monday, January 13th, Dress Up Day Today, the characters are playing dress-up and we get to watch them, join in and have some fun pretending. The fun starts as Joe becomes Explorer Joe and later dresses up as a robot. We see some of our favorite characters dress up as a crossing guard, an astronaut and more.
Later, in a Blue Skidoo segment, we help an ostrich to put on a play, finding the proper props and costumes to make the play work.
Tuesday, February 4th, Blue's Big Band Blue has created "Blue's Big Band" and many of the characters, including Joe and ourselves will be playing instruments in the band. We practice with Tickety and later listen to some music that Mr. Pepper and family are creating simply by using an old washboard.
We follow along to some of Periwinkle's beats as he plays on the drums. Later, we skiddoo and meet Piano, who guides us through a musical story about a group of piggies. Monday, March 3rd, Up, Down, All Around! When Joe needs help finding Baby Bird, we learn about the importance of directions. From left and right to up and down and more, we learn all about directions in this episode. Directions come in handy when a felt friend needs our help in getting back to his felt frame.
They can even help classic storybook characters, such as Little Bo Peep, when help her to find her sheep in a Blue Skidoo segment. Monday, April 28th, We consider some of the characters' creations for the story and help them select the right pictures that match the story they want to tell. We even get to skiddoo into the story and watch events as they happen.
Monday, May 5th, There are going to be boxes from A-Z connected to the train and each one will contain something to represent that letter. We help the characters throughout to figure out what they can put it the boxes and also help to make sure everything is in order. Our skidoo trip takes us into a magnet board, where we find every more things for the boxes. Once train is complete, we join in a song about the alphabet. Monday, May 12th, In this episode, we explore numbers, counting and basic arithmetic.
We help out to find missing numbers by using counting to figure out where they're hiding. We also skiddoo into a book filled with numbers. There, we help out a couple of different numbers to tell a story and learn addition and subtraction in the process. Monday, May 19th, Blue's Predictions When we correctly predict that when Blue pokes a soap bubble, it'll pop, we decide it would be fun to predict other things as well.
In this episode, we use observations and logic to figure out things that will happen. We watch a robot race that Paprika sets up and use what she tells us about the robots to guess which will cross the finish line first. In the Blue Skidoo segment, we hop inside a storybook, where we predict what will happen in the story of Penguin Pierre, with the help of Bookmark to guide us along.
Monday, June 23rd, Our Neighborhood Festival Today, there's a big neighborhood festival being held in the Blue's Clues neighborhood.
Everyone's excited about everything that's happening, although different things excite different characters.
Magic is always a mainstay with Periwinkle and he has Joe and Blue play a "Guess Who" game and then provides Joe with a festival passport in which he can put stickers to represent the various events he's attended.
By playing Shovel's beanbag toss game, we get another sticker, as well as a modeled look of the neighborhood. Matlee the librarian also has a game to play - a storybook game in which we match characters with the stories that they belong in.
At the end of it all, the evening is capped off with a beautiful fireworks display. Tuesday, August 26th, He's a bit nervous to go, but he's okay since we're there with him for his first day. Once he gets there, he finds that he thinks that school is lots of fun. He takes part in activities such as "circle time" and "painting time" and even gets to feed the pet rabbit, Giggles.
When it's time to go home, he likes school so much that he wants to play it as a game back at home. In "Blue Goes to the Beach," Mr. Pepper have an argument over whether a straw will sink or float in water. Salt thinks it will sink, Mrs. Pepper is convinced it will float. Pepper is right, as is found out when Steve reasonably suggests that they just try it and see what happens. In the book releases. Take a look at the earlier ones and you'll find that Blue's face is a bit chubby and the blue coloring is rather dark.
Then take a look at the later book releases - the coloring is lighter and Blue's face has been thinned out. This generally holds true for the other characters as well and there are other, more subtle changes to the appearance of the art.
Joe to Steve in-universe. He is called a "little" brother of a college student but looks like an adult. Once American Sign Language is introduced in "Signs," the signs for "first," "second," "third," "thank you," and "smart", among others, are incorporated into the show's routine. While she doesn't wear blue, she is the main character and has blue fur. Breaking the Fourth Wall: Steve and Joe talk to the viewers. In two book releases, minor character Green Puppy is a main focus.
Shovel and Pail are siblings and are almost never seen seperately. Periwinkle a cat was best friends with Plum a bird back when he lived in the city. When Blue is happy, she will often squint her eyes and run in place. Comically Missing the Point: In the early episodes, whenever Steve goes to the Thinking Chair to resolve the episode with the given clues, he usually makes a bizarre guess, like Blue putting a cow in a cup and slurping it up with a straw she just wanted milkor wrapping a pillow in a blanket and reading it a story she only wanted a nap.
Steve and Joe can sometimes be like this whenever the audience is trying to tell them about a clue nearby. In an early episode, Steve bought Blue a pet turtle named Turquoise for her birthday. Turquoise shows up in the background of most scenes set in the bedroom after that. In Steve-era episodes, what Blue hides behind in the intro is always different. Joe-era episodes, on the other hand, have him wear a different colored shirt every episode. Something consistent across almost every episode is what's in the picture frame in the living room.
Sometimes it even changes between scenes. Green Puppy has fangs, being a dog, and she's cute due to being a puppy. The Blue's Big Musical deconstructs how the kids always found the clues with Steve's subplot about finding a Blue's Clue all by himself and the frustration that Steve gets when he's unable to do it himself.
Thankful, everyone cheers him up to continue and he finds the last clue all by himself. Cinnamon gets his diaper changed several times.
This was actually the answer to a game of Blue's Clues at one point. Yes, I'm wearing shoes. The first clue is an ice cube. However, Steve just got done counting ice cubes in a tray 10 to be exact Similarly, a clue is seen on a carton of orange juice in "Blue's Surprise at 2 O'Clock". Steve just drank some after being told of the clue. Cue Steve thinking he drank the clue.
Nickelodeon Россия | Официальный сайт телеканала Nickelodeon
In the early episodes, Steve was much more excitable, and during Mail Time, he would say each kid's name, instead of using the all-encompassing term of "our friends". At the end of each episode, they would sing "It's time for so long but we'll sing one more song. Thanks for doing your part, you sure are smart, y'know with me and you and my dog Blue we can do anything that we want to do. Exploiting the Fourth Wall: As part of the fake interactivity, Steve or Joe would sometimes pass an object back or forth between them and the viewer s.
This sounds like it'll be tough, so I'm really going to need your help today? Along with Dora the Explorerthis was one of the early Nick Jr. Usually, pre-recorded children's voices would answer the question. Host Steve or Joe Kevin in the U. A typical line of dialogue First Day of School Episode: An example is implemented in "Blue is Frustrated": The first clue, the sink, is discovered and drawn from the floor looking up, making it look like the sink is taller than it is.
The answer to this game of Blue's Clues is that Blue is frustrated over trying to brush her teeth Pepper who have two children Paprika and Cinnamon are a happy couple and whenever they're angry, it's not at each other. The album "Goodnight, Blue" has a bonus at the end called "Hidden, Blue's Dream" that isn't listed on the album itself, though plays as a separate track.
There's just under two minutes of night noises and snoring before the dream part actually starts. I Can't Hear You: This is done in "Nature! Also, it's a fairly common Running Gag on the series for either Steve or Joe to mishear when the voice says "A clue!
Every dog character spoke in a kind of canine whine that the viewer couldn't understand but all the other characters seemed to understand fine. The audience regularly talks to Steve and Joe. Lady Looks Like a Dude: Steve generally believes Green Puppy a bulldog to be male. In one episode, one of the clues was a cloud. Right before drawing it down, Steve wonders how Blue could put her paw-print on it. Two were released during the show's popularity peak: Later on, there was one released for the V-Tech V-Smile plug-and-play learning system.
Many of them were surprisingly good. Steve wore nothing but green striped shirts and khaki pants. All of Joe's shirts are different colors, but they have the same square pattern. One episode has Steve opening a present with an increasingly smaller present inside each one. All types, from shampoo to plush toys some, such as the Shovel and Pail Eden plush, are very rare to model Thinking Chairs.
There were also dry-erase Handy Dandy Notebooks, of which the non-dry-erase replicas are easy to find on eBay. Inverted in "Magenta Comes Over". Everyone at the house is so eager to have Magenta as a guest that they break into a short song and dance whenever it's discussed. The tune carries over when Magenta finally shows up. Blue's Big Musical Movie, the only direct-to-video movie for the show. The people on the show would often query the "audience" on the answer to the show's questions and puzzles.
Not to mention Blue pawprints the screen in the beginning of an episode. One time after Steve greets the viewer, he asks how they "got" there. The conclusion he reaches? Not Allowed to Grow Up: Averted with Paprika and Cinnamon.
They both started out as babies who couldn't talk having been born during the seriesbut over time, they started acting more like little kids instead of babies. By the end of the series, Paprika was speaking full sentences like the rest of the cast, and Cinnamon knew some words. Sitting in the Thinking Chair to figure out the clues, and when they have, singing about it.
The "one more song" they sing at the end. Pink Girl, Blue Boy: A notable subversion as Blue and Magenta are both girls. Blue, Steve, and Joe can all "Skidoo" into pretty much any picture around and interact with the residents.
Put on a Bus: Steve literallywhen he went off to college.